Antique Vintage Sterling Silver Native Zuni Agate Roadrunner Inlay Pin Brooch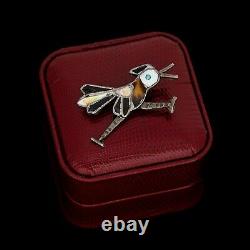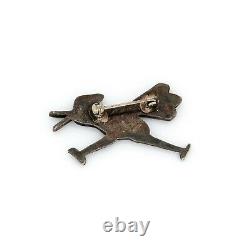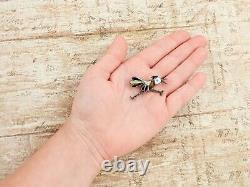 We have similar Zuni and Inlay items, which would pair nicely with this piece, for sale this week. Listing Description by: Angela A.
Age Circa: Antique Native Zuni C. Markings: Unmarked , tested, and guaranteed. Country of Origin: United States - Zuni Nation. Gram Weight: 4.7 grams.
Length: 8.33 mm long. Color: semi-translucent tan and dark brown hues. Accent Stone: Onyx, mother of pearl, abalone shell, and turquoise. Onyx: five sections ranging between 6.0 mm long and 2.82 mm wide, and 10.87 mm long and 3.51 mm wide; opaque deep black hue. Mother of Pearl: one section is 6.37 mm long and 5.76 mm wide, and the other measures 5.84 mm long and 3.41 mm wide; opaque, slightly iridescent white and tan hues. Abalone Shell: 11.45 mm long and 3.57 mm wide; i ridescent blue, green, pink, and purple hues. Turquoise: 1.87 mm in diameter; opaque bright blue hue. Stone Treatment: The stone(s) appear to be untreated, but we are not certified gemologists. Stone(s) have been tested and guaranteed using a professional Presidium Duo refractive, heat, and hardness tester. Stone Cuts: Carved and polished inlaid cabochon. Pin/Brooch Style: Brooch, lapel pin, hat pin, scarf pin, tie pin.
Closure Type: Pin stem with a locking "c" clasp. Convertible to Necklace Pendant: If desired, your local jeweler can add a bale to this piece so it can be worn as a pendant.
Handmade during the 1960s by a talented Zuni artisan. 925 sterling silver crafted in the motif of a roadrunner. The brooch features lovely inlaid mother of pearl, onyx, agate, turquoise, and abalone stones.
The bright blue hue of the turquoise stone, which serves as the roadrunner's eye, contrasts beautifully with the white hue of the mother of pearl. The brooch also features hand-hammered stamping designs on the roadrunner's legs for eye-catching detail.
Completed with a pin stem and locking "c" clasp, allowing it to be worn on a variety of accessories, including hats, scarves, and jackets. The brooch displays some tarnish which gives it a lovely antique quality. This listing is for the item only.
This beautiful piece was made by a very talented Native American silversmith. It features handcrafted silversmith work throughout.
Antique Native American jewelry is very rare to find. This is due to these pieces being made for reservation and personal use before the tourist trade became popular. Very few pieces were made and even less survived to today.
The concept of Pawn, Old Pawn, and Dead Pawn Native American Jewelry came to be in the 1800s. When a loan wasnt repaid, the item became known as either Old Pawn or Dead Pawn. T he Zuni Nation is well known for their stone inlay work, mosaic-like images depicting religious and cultural motifs created from materials that were readily available.
Their modern work is well known for its bold stone colors; often turquoise and coral are used. It is rare for their pieces to be signed, as the Zuni People believe artwork belongs to the entire community. Agates are a semi-precious variety of gemstones composed of chalcedony and quartz layers that vary highly in grain and coloration, and usually show multi-color bands. It comes in many different colors including white, red, black, yellow, brown, or pink.
The hues and bands are dependent on environmental pressure and temperature, and the mineral contents of each stone. Each agate is unique because of these myriad factors, and even slabs cut from the same specimen will vary in coloration and design. The stone was discovered on the shore of the Greek river Achates in the 3. Century BC, and has been used for carvings and jewelry since. Onyx is a chalcedony quartz gemstone that is found all over the world.
It usually has a fine texture and black color; however, some onyx also displays colored bands or ribbons against a black or brown background. Red onyx is quite rare and desirable and is also known as sardonyx. Onyx that has a deep green shade is known as Brazilian green onyx and is very rare. It became a popular stone for sculpture and jewelry in the 1920s and 1930s. The name comes from the Greek word onyx which means nail of a finger or claw.
The word onyx comes from the Greek word. " which can be translated as "nail of a finger or claw. In Greco-Roman myth, the goddess of beauty, Aphrodite, lay sleeping when Eros cut her fingernails and left the clippings scattered on the ground. Because no part of a heavenly body can die, the gods turned them into stone which later became known as onyx.
The item "Antique Vintage Sterling Silver Native Zuni Agate Roadrunner Inlay Pin Brooch" is in sale since Saturday, May 9, 2020. This item is in the category "Jewelry & Watches\Ethnic, Regional & Tribal\Native American\Pins, Brooches". The seller is "abeautifultimeco" and is located in Fort Collins, Colorado. This item can be shipped worldwide.
Stone #2: Onyx
Country of Origin: United States - Zuni Nation
Modified Item: No
Country/Region of Manufacture: United States
Stone #3: Mother of Pearl
Stone #4: Abalone Shell
Stone #5: Turquoise
Metal Purity: .925
Main Stone: Agate
Metal: Sterling Silver
Jewelry Type: Pins
Tribal Affiliation: Zuni
Ethnic & Regional Style: Native American