NAKAI Native American Navajo Multi Stone Sterling Silver Pin Earrings Set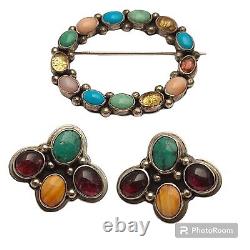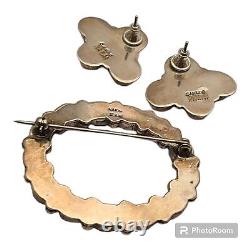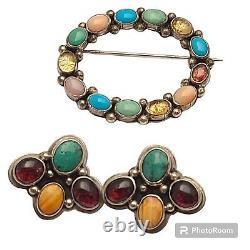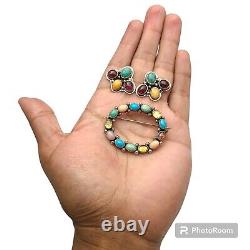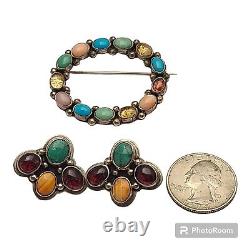 Vintage sterling silver and multi gemstone oval Native American Set Pin brooch & Earrings by Nakai. Pin brooch Measures 1"½x1"?
Sterling silver post earrings with four gemstones each: garnet, spiny oyster amethyst, and turquoise earrings are 22mmx25mm total weight 21.7grams Signed Nakai. Navajo, Native American Sterling silver. Navajo husband & wife GILO & GRACE NAKAI have operated a shop in Albuquerque, NM since the 80's, where they do not only make their pieces, but piece workers also supply their shop with their jewelry, which bare the NAKAI hallmark. Historically, Navajo jewelry is an important part of the Navajo people's cultural heritage. A Navajo necklace, bracelet, or earrings was worn to reflect a person's cultural identity, status, or wealth. Today, Navajo jewelry is immensely popular among native peoples and non-natives alike, fusing fashion, historical significance, legend, religion, and culture into a beautiful piece of artwork. Most of the Navajo jewelry you'll see online was designed decades ago. These were meticulously crafted by talented artists who were taught traditional ways of silversmithing and working with stones by the artists who came before them. If you find a vintage or antique Navajo jewelry piece, you have found a one-of-a-kind work of art! These older pieces were crafted primarily for their own use or to trade with other tribes.