Vintage Zuni Pin Pendant Signed by Madeline Beyuka Sterling Silver Native Am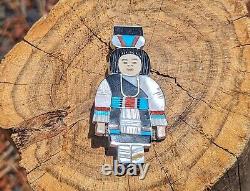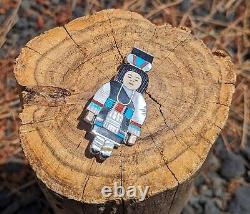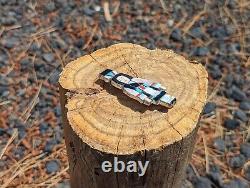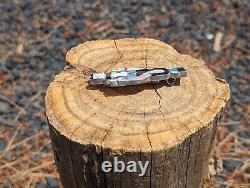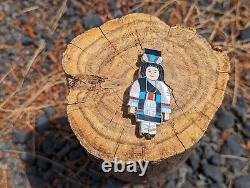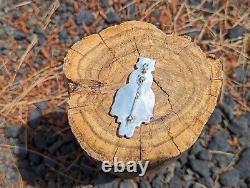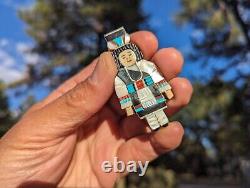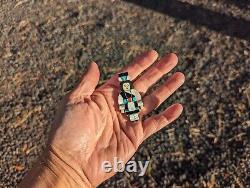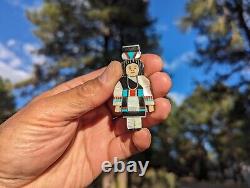 This is a vintage Native American pin, pendant, brooch. Made of sterling silver, Turquoise, mother of pearl, onyx. Handmade and signed by artist "MB" Madeline Beyuka on back.
Traditional tribal artwork, intricate details. Awesome piece of collectible quality Native American work of art jewelry.
Locking safety catch or locking C clasp closure. Madeline Beyuka made jewelry from 1954 until the late 1980's. She learned the craft from her brother-in-law, and worked with her husband Edward Beyuka for a number of years.
She and her husband Eddie were famous for their dancers & kachinas. Madeline did the inlay and Eddie did the silverwork on their collaborative pieces. After their divorce, she continued to work the same designs, but she began doing all of the stonework and silverwork herself. The Eagle Dancer, which she and Eddie were known for, has sterling silver highlights representing strands of bells to gain the God's Attention.
Madeline was one of Zuni's premier silversmiths in the 1960's. She is known for her old-style Zuni channel inlay work. Madeline has nine children, some of whom are silversmiths.