Native American STERLING SILVER Royston TURQUOISE Sacred Spiral PIN BROOCH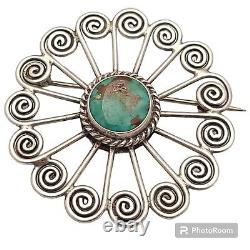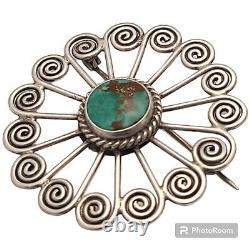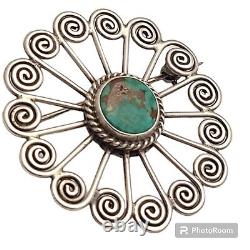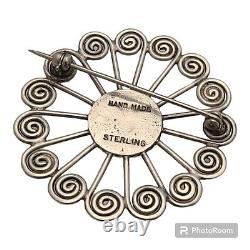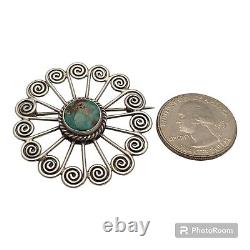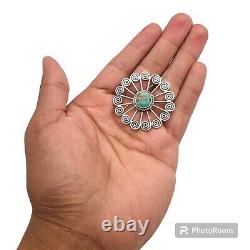 VINTAGE NAVAJO INDIAN STERLING SILVER Royston TURQUOISE Sacred Spiral PIN. It's a pinwheel of Sacred Spiral. This vintage sterling silver pin is a circle of circles at each end. They're curled into a tight outer edge, protecting their central star... A lovely genuine Royston turquoise stone. Spiral PIN brooch is 1? The spiral is one of the oldest symbols used by humans. It appeared thousands of years ago in southwestern Native American tribal areas on cave walls and on ancient pottery. From Petroglyphs, Keam's Canyon, Hopi Mesas, Arizona It is a decoration of great frequency and consisting of single and double spirals.
The single spiral is the symbol of Ho-bo-bo, the twister who manifests his power by the whirlwind. The myth explains that a stranger came among the people, when a great whirlwind blew all the vegetation from the surface of the earth and all the water from its courses. With a flint, he caught these symbols upon a rock, the etching of which is now in Keam's Canyon. It is 17 inches long and 8 inches across. He told them he was the keeper of the breath.
The whirlwind and the air which men breathe come from this keeper's mouth. The spiral also symbolized a way of planting, starting at the center and moving out in circles as they planted.
In Navajo it was called ha'oolmaaz.