Old Native American Navajo Bisbee Turquoise cluster sterling Small pin brooch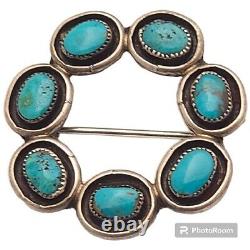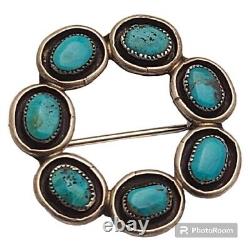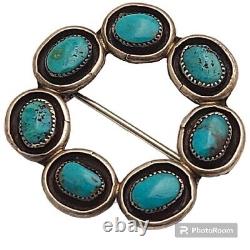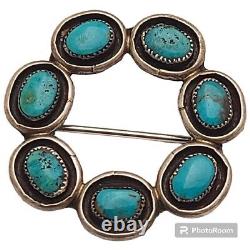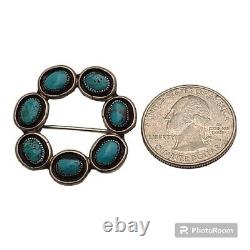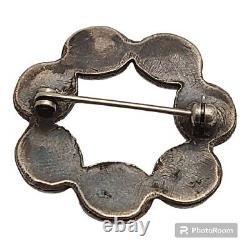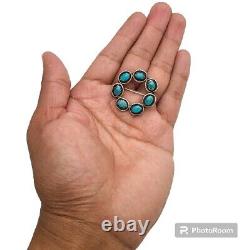 Old Native American Navajo Bisbee Turquoise cluster sterling round pin brooch. This simple sterling silver navajo pin features 7 high grade Bisbee turquoise stones all around the perimeter. The extremely fine stone setting creates a beautiful texture & fluidity to each cluster point piece. Sterling silver with bisbee turquoise. Circa 1960's pin brooch is 1?
Weight5.6grams no marks but tested as sterling silver great addition to your collection?? Bisbee Turquoise is one of the most beautiful types of Turquoise that has ever been taken out of the ground in North America. It's striking true blue color ranges are spectacular and the chocolate matrix that the Turquoise is found in, extentuates it's beauty. Bisbee Turquoise is some of the finest Arizona Turquoise and there is no Turquoise on earth that is comparible to Bisbee Turquoise, as it has it's own unusual charicteristics that are unique only to itself. The Bisbee Mine was originally founded in the mid 1870's and by 1975 when it was closed had become the largest and richest mine the world has ever known.
Taking out over 8,000,000,000 pounds of copper the mine was given the name "The Copper Queen". The Bisbee Mine also produced nearly 3,000,000 ounces of Gold, 77,000,000 ounces of Silver and billions of pounds of lead and zinc!
The Bisbee Mine also produced a variety of outstanding minerals including Malichite, Azurite and of course Turquoise that are by products of the metals and minerals that are native to this Mine. However, mining at Bisbee did not include mining for gemstones, any Turquoise or other gemstone materials were discarded by the mining companies and prohibited to be taken out by the minors due to liability reasons. In the late 1950's, a deposit of Turquoise was found in the Lavendar Pit region of the Bisbee Mine. Most of this Turquoise was hauled off to an area where they dumped their waste and over burdens from the mining project. Individual Minors recognized the beauty of the Bisbee Turquoise and would sneak small amounts of the Turquoise out in their lunch boxes and/or what ever other means they could muster.
It was not long after Bisbee Turquoise was discovered in the Mine that it was introduced to the Southwestern Jewelry Industry. By the early 1960's, Bisbee Turquoise had become the finest Turquoise the market had ever seen and demand for it went through the roof.