Old Pawn Sterling Silver Blue Turquoise Applied Whirling Log Bar Pin / Brooch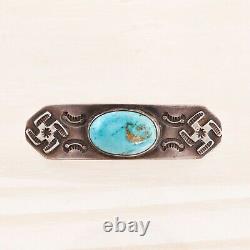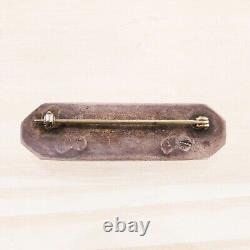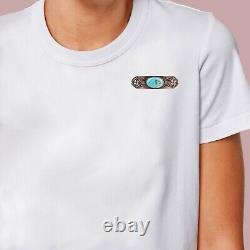 Maker in this design featuring a stunning. Blue turquoise & applied whirling logs. A beautiful addition to your jewelry box!
Pin Length x Width: 50.9 x 14.6mm. Stone Size: 16.8 x 11.1mm. All of our stones are natural earth mined stones, unless stated otherwise.
WE LIKE TO PROTECT THE INTEGRITY OF THE PIECES SO WE DO NOT OFFER OR SUGGEST SIZING. WE HAVE TESTED ALL STONES & METALS THAT WE IDENTIFY AND GUARANTEE THEIR PURITY. ALL UNIDENTIFIED STONES AND METALS HAVE A??? DISPLAY ITEMS AND BOXES ARE NOT INCLUDED UNLESS STATED OTHERWISE. PLEASE DO NOT MESSAGE US REGARDING BEST OFFERS.
OUR MESSAGES ARE USED FOR CUSTOMER SERVICE ONLY. WE ARE UNABLE TO ACCEPT OR COUNTER OFFERS THROUGH MESSAGES. BEST OFFER FUNCTION - PLEASE SEND OFFERS UTILIZING?
WE WILL NOT ACCEPT ANY BEST OFFERS. THANK YOU FOR SUPPORTING SMALL BUSINESS!