Vin NAVAJO ROBERT VANDOVER STERLING GREEN TURQUOISE & SODALITE HORSE PONY BROOCH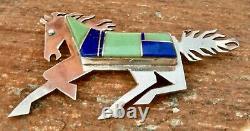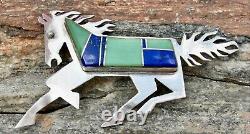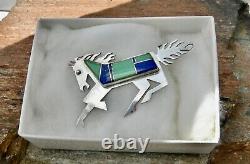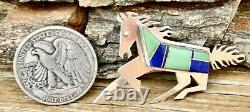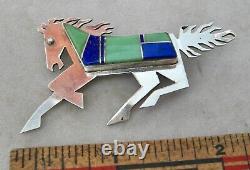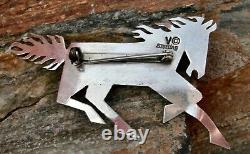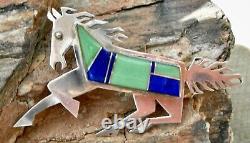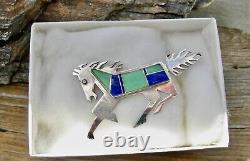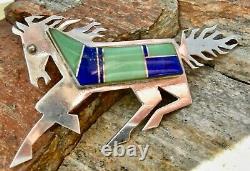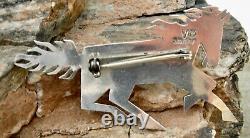 For sale, a GORGEOUS, VINTAGE, NATIVE AMERICAN NAVAJO SILVERSMITH SIGNED "V" WHICH BELONGS TO "ROBERT VANDOVER" HIGH QUALITY SILVERSMITH STERLING SILVER WITH INLAID GREEN TURQUOISE & BLUE SODALITE "WILD PONY" OR GALLOPING HORSE FIGURAL BROOCH.... THIS IS JUST A CLASSIC BROOCH..... AND LOVE THAT IT IS HALLMARKED BY FAMED NAVAJO ARTIST ROBERT VANDOVER WHO IS KNOWN FOR THIS STYLE WORK....
ORIGINAL OWNER SAID GREEN STONE IS GREEN TURQUOISE, AND BLUE STONE IS SODALITE. This is so beautiful, and a fun pc.. all original, no damage, outstanding workmanship. But, hopefully the pc speaks for itself.
THIS IS SIGNED BY "ROBERT VANDOVER" AND ITS. NOT SUPER HEAVY, IT WEIGHS ABOUT 9.67 GRAMS, (see size compared to a 31mm half dollar).... The workmanship is outstanding, weighs about 9.67 grams, brooch measures about 1 1/4" tall x 2 1/4" long (or 32mm x 58mm), and signed by Robert Vandover, Navajo silversmith who specializes in these Animal figural brooches...
The back pin is fully functional, and the workmanship is awesome. Outrageous BEAUTIFUL ROBERT VANDOVER SIGNED NAVAJO SILVERSMITH MADE vintage STERLING SILVER WITH GREEN TURQUOISE & BLUE SODALITE SOUTHWEST WILD PONY / GALLOPING HORSE FIGURAL BROOCH....... JUST AMAZING WORK OF ART. Offered at a very fair price for genuine Robert Vandover Navajo work of art.
Thanks so much for looking.... Collect and invest in history!!!!!
Tangible assets are always the best ones.